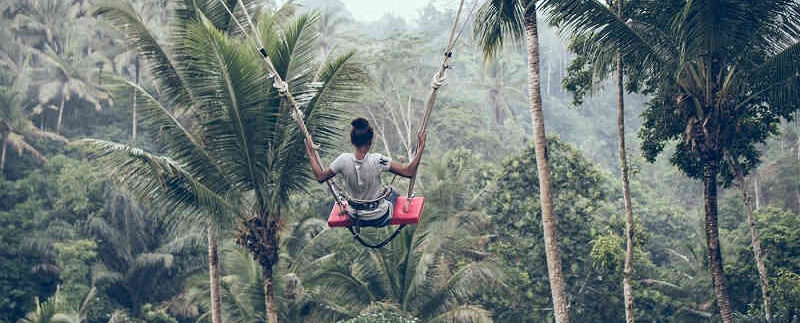 One of the so-called problems of travelling to a destination for the first time is knowing which activities are the ones that you really should try to do whilst you are there. If you travel to Bali the problem is somewhat different in the sense that there are so many outstanding experiences and activities available, that your biggest problem is going to be trying to fit them all into the time you have available.
To give you just a small taste of some of the great activities that you can try in Bali, we are going to highlight 5 of them, and we have tried to make these as diverse from each other as we can so that hopefully there is at least one that will everyone reading this will be keen to do. So, let get started…
#1: View The Sunset
We will start with something that everyone can enjoy and that is watching the awesome sunset that occurs each evening over Bali. Bali's sunset is simply spectacular and turns the sky into a kaleidoscope of orange, red, pink, and yellow.
The sunset can be enjoyed in all parts of Bali, but there are also some locations in particular where your view will be enhanced. These include The Lawn Beach Club in Canngu, La Laguna Restaurant, Tanah Lot Temple, Uluwatu on the southern tip of Bali, and of course, any beach of your choice.
#2: Visit The Rice Terraces
Bali is famous for its rice terraces and the most famous rice terrace of them all is Tegalalang, which is near to the town of Ubud. If you would prefer to see the largest rice terraces on Bali, head west to the Jatiluwih rice terraces which are stunningly beautiful.
One word of warning is that the rice terraces are extremely popular with tourists and are a regular stop on bus tours, therefore, you should expect them to be relatively busy. To avoid this you should set out early and try to arrive by 8 a.m. so that you are there before the busiest periods.
#3: Go Surfing In Canggu
For the more adventurous, physically fit, and water sports-minded amongst you, surfing is on the agenda in Canggu. Specifically, we are talking about Canggu's Batu Bolong Beach where the surfing conditions are exceptional.
There is no need to pre-book as you can simply turn up and hire a surfboard from one of the shacks that are clearly visible. The cost can vary but it is extremely low. If you require or wish to have surfing lessons from an instructor the fee for a 2-hour lesson is around 35 Australian dollars.
#4: Visit Ubud Monkey Forest
Apart from the fact that the Ubud's Monkey Forest is stunningly beautiful thanks to having more than its fair share of tropical trees, and a river flowing through it, it is also the home to a temple and dozens of monkey families, which makes the forest a must-see destination when are in Bali.
Whilst the monkeys are friendly, they can also be mischievous too, so make sure you keep your hat, sunglasses, and wallet secure, otherwise, you must just find them being stolen by one of the monkeys and whisked away to the top of the nearest tall tree.
#5: Walk Along Campuhan Ridge
The Campuhan Ridge Walk is one that offers some of the most stunning views in all of Bali. Whether you walk it in the morning as the sun rises, or in the evening when the sun sets, the array of colours on display from the jungle that surrounds it, is a sight to behold.
There are no entry fees, and with a total round distance to walk the entire ridge and back of around 3 miles, you should allow up to 2 hours to complete it, assuming you wish to stop and take photographs, although in truth you can take as long as you wish.
Read more