5 Of The Best Beach Clubs In Bali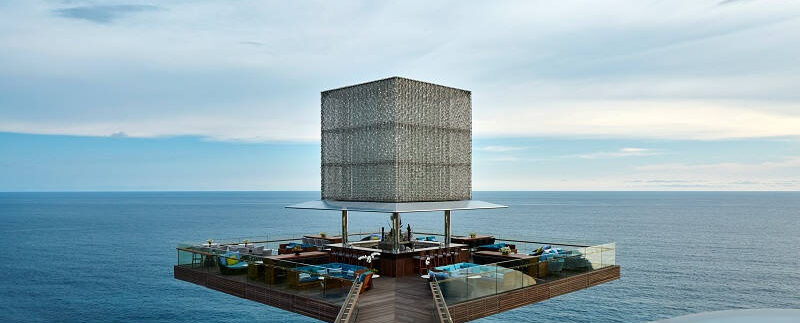 There are many things Bali has no shortage of including great restaurants, stunning scenery, fantastic beaches, and another you can add to that list, is amazing beach clubs. Whether you are looking for some awesome food and refreshing drinks, a place to meet up with friends, or simply looking for somewhere to relax and chill for a few hours, there is a beach club to suit you.
One of the great things about Bali's beach clubs is no matter which area you are visiting, you are almost certain to have a beach club nearby. For that reason, we thought it would be fun to highlight 5 different beach clubs, but instead of them all in one area, we have a beach club in five different locations across Bali and its adjacent islands. These are Canggu, Jimbaran, Legian, Nusa Lemgongan, and Seminyak.
Beach Club #1: Finns Beach Club, Canggu
One of the best-known beach clubs in Bali, which has almost taken on an iconic status, is Finns Beach Club in Canggu. Situated on the wonderful Berawa Beach, you have the option of swimming in the sea or in their infinity pool. Finns serves a wide range of food and drinks and for those music lovers amongst you, there are resident DJs. Opening at 9 am and closing at 11 pm, Finns is free to enter. It is also extremely popular so reserve your seats and loungers in advance.
Beach Club #2: Sundara Beach Club, Jimbaran
If you are looking for a beach club which offers amazing dining options then the Sundara Beach Club in Jimbaran is one you must visit. It's menus include seafood nights, Sunday brunch (which includes unlimited orders), romantic dinners and desserts to go. There is also a kids menu for the little ones. Between meals you can relax on seating or loungers, and there is also an infinity pool adjacent to Jimbaran beach. Opening hours are 11 am to 1 am and entry is free.
Beach Club #3: Azul Beach Club, Legian
For stunning views of the sunset over Padma Beach in Legian, the place to be is Azul Beach Club which is directly opposite the said beach. Equally eye-catching is the beach club itself which is constructed over several levels and made from bamboo, which from afar, makes it look like a giant beach hut. It has a menu to suit all tastes and is famous for having Bali's first-ever tiki bar. Provided you meet the minimum spend levels, there is no cost to enter and use their seating.
Beach Club #4: Sandy Bay Beach Club, Nusa Lemgongan
This is another beach club where you can watch a beautiful sunset and do so whilst eating a meal chosen from Sandy Bay Beach Club's extensive menu which consists of Asian and European dishes as well as snacks, salads, and desserts. Sandy Bay can also be booked for events, and should you wish to stay overnight, accommodation is available. For pampering, there is a spa and a boutique for those who wish to partake in some clothes and accessories shopping.
Beach Club #5: Potato Head Beach Club, Seminyak
The curiously named Potato Head Beach Club in Seminyak is one that will suit all ages and all preferences. For those who are active, there is the swimming pool, for those who prefer to relax there is plenty of loungers, and the group who are especially going to love being here, are those who like fine dining. Regarded as one of Seminyak's top restaurants, the Kaum Restaurant in this beach club serves traditional Indonesian dishes within beautiful surroundings.